Regular price
$28.95
Sale price
$28.00
Unit price
per
Sale
Sold out
A luxurious, flame-free way to continuously scent your space.
This long lasting Fragrance Diffuser Set will release a constant, pure fragrance throughout your space to instantly lift your mood. Embrace the simple ritual of scenting your home with our premium reed diffusers & enjoy your very own fragrant sanctuary for many months to come.

Perfect size for scenting a smaller space: Bathroom, Office, Salon, Classroom, Laundry, Linen Cupboard, and Walk In Robe.
Hand poured using the highest quality fragrances. The unique scents will be absorbed by the natural diffuser sticks, which have not been bleached or dyed, for an enhanced scent throw.
Fragrance diffuses for 2-3 months depending on air conditions.
Capacity/Volume: 140ml

Features: Presented in a stylish glass bottle, topped with timber lid, our diffusers will suit any home decor.
Fabrication: Fragrance oil, 8 natural fibre reeds, glass vessel with wooden lid. *Gift box available to order
Care and Use Instructions:
For maximum enjoyment, please keep your bottle out of direct sunlight and turn your sticks weekly for a burst of fresh fragrance. Avoid heat or flame. Keep out of reach of children and pets. For external use only. Do not ingest. Keep away from food and drink. Avoid contact with the eyes and skin. Wash hands after contact. If irritation occurs, rinse thoroughly with water.
View full details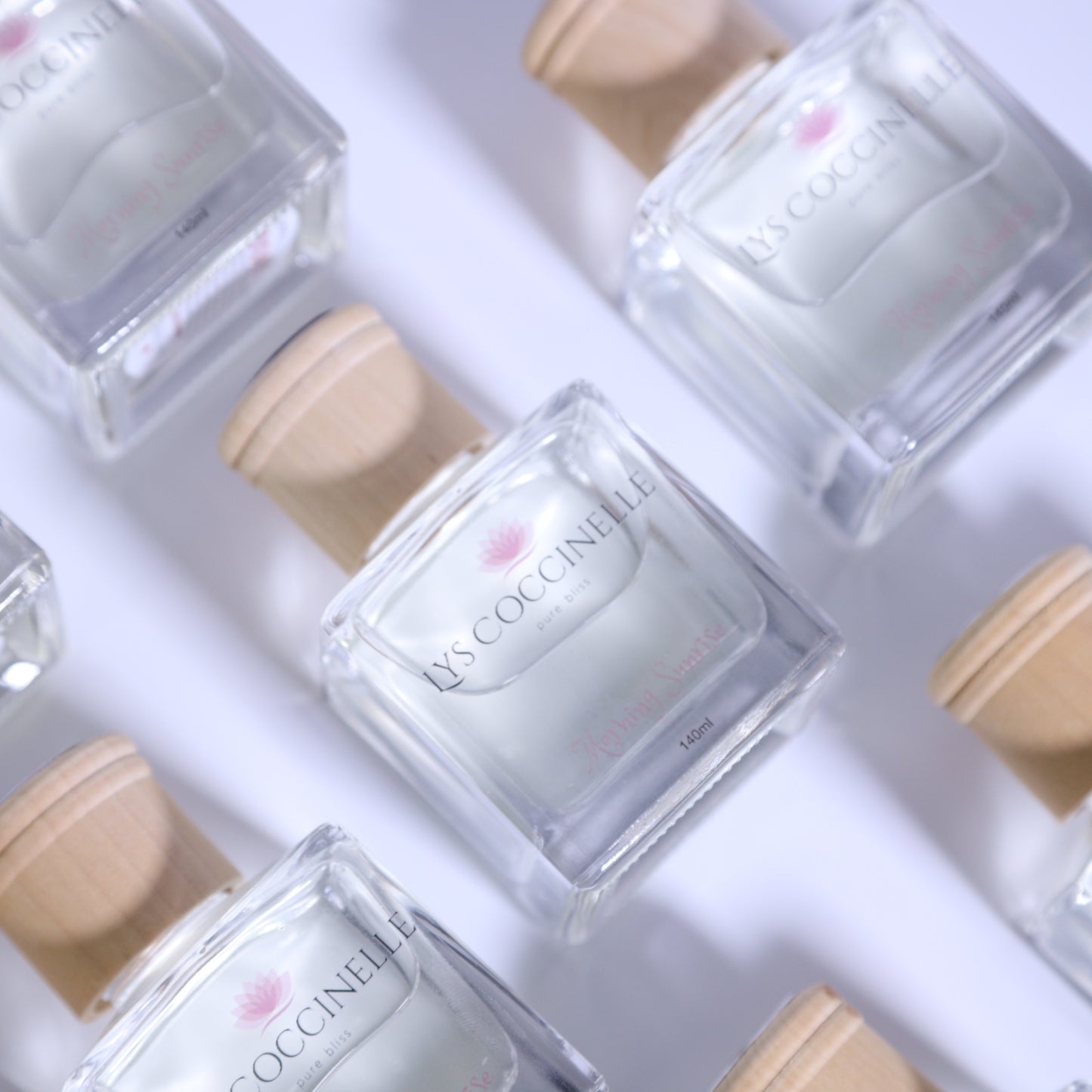 Collapsible content
Ingredients

NO "P's"! NO palm oil, petroleum, paraffin, phthalate or other nasty chemicals your family is breathing in. Soy is non-toxic and burns cleaner than other paraffin wax candles and are, therefore, far better for the environment and for you! Discover more about the Lys Coccinelle commitment to delivering quality candles here.
Candle Care

Always read the safety instructions on the base of your candle or box
Place candle on a heat-resistant surface or candle plate out of any drafts
To create 'candle memory' ensure the first burn creates a melt pool almost to the edges. This will differ depending on candle container size & exterior factors but is usually 2 - 3hrs.
Extinguishing your candle before the melt pool reaches the edge of the glass can cause a tunneling effect & ruin the longevity of your Lys Coccinelle candle.
Trim the wick to 5mm before lighting every time to ensure your candle burns cleanly. Doing this with our specially designed wick trimmers will ensure no black soot from the wick falls into the wax. If the wick is left too long, the cotton wick will mushroom and cause smoking.
Always extinguish your candle with a snuffer to reduce smoking and to ensure the lovely scent you have just experienced resides for longer.
NEVER burn your candle further than 5mm from the base of the jar as the intense heat can cause the jar to crack or explode
Follow our jar cleaning steps and order a candle refill or simply reuse and recycle our stunning jars around your home or office.